Top Cycling Trails in Oman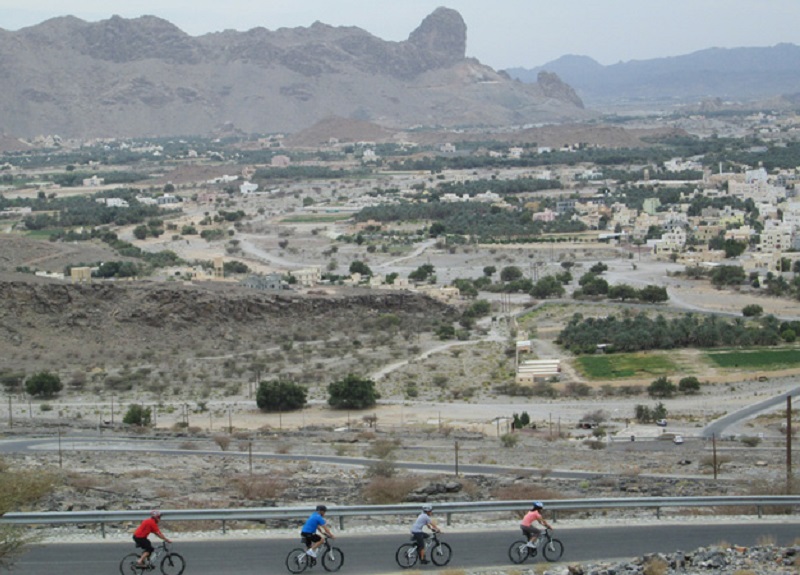 If you're searching for the top cycling tours in Oman, you've landed at the right place. We've collected a list to the best biking tours in Oman for you so you don't have to spend unnecessary time doing research about which circuits to take and how to arrange for the details of the tour.
Oman is blessed with the ideals landscape for those interested in cycling tours with a variety of different types of paths, trails and weather while the people are considerate of cyclists as a novelty factor since the country is not yet a cycling hotbed. While it may be too hot during peak summer time to head out for a cycling tour without risking a heat stroke with careful consideration of the weather and trails chosen, it is no wonder that many believe that this is the next destination for cycling tours in the Middle East. So, take a look at these four routes that made to the top of our list of cycling tours in Oman.
Panorama Bike Tour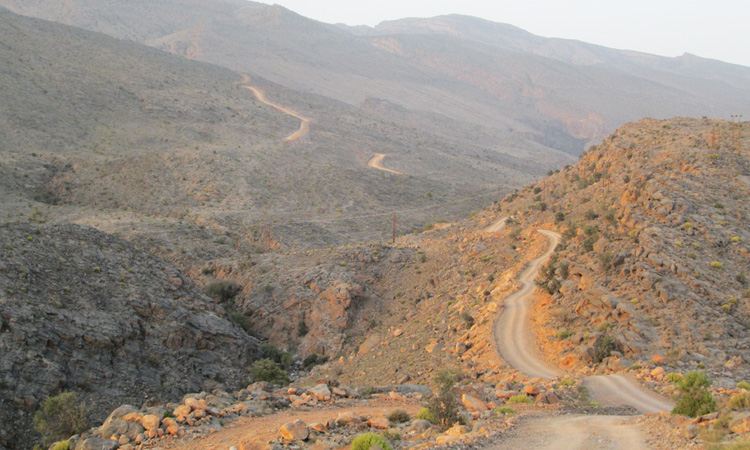 This intermediate tour should be easily covered within two to three hours and takes cyclists through a pleasant but not too challenging route from Al Hamra Shopping Street to Misfat Al Abriyeen, one of the oldest villages in Al Hamra and onwards to old Al Hamra.
The highlight of this tour is the opportunity to explore Misfat Al Abriyeen with its spectacular Falaj irrigations system and panoramic views of the valley which ensures its inclusions on this list. The path that is followed is well maintained but it makes for a steep ride for a long 5 km till the village, which lies at an altitude of almost a thousand meters above sea level.
After exploring Old town of Al Hamra cyclists can also enjoy a fun ride through the date farms before the end of this tour.
Two Towns Bike Tour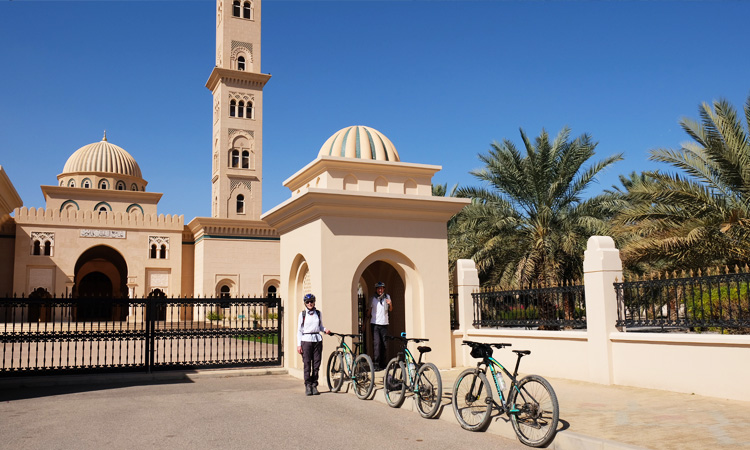 This tours is another intermediate level cycling tour that generally takes participants somewhere around three to four hours to cover as they traverse the path from Al Hamra to the town of Bahla and onwards to Jabreen Castle. This cycling tours takes cyclists through smooth paths as they cross even roads with a little off-road biking involved. On reaching Bahla, cyclists will enjoy the fun endeavour of taking on the labyrinths of narrow roads they must cross in the city to visit the Bahla Fort and the pottery souk.
This guided cycling tour involves a short break to explore the UNESCO world heritage site of Bahla Fort and its surrounding settlements which showcases the heritage and history of Oman. Then cyclist continues towards the 17th century Jibreen Castle which has been furnished to display period specific decor. The sights explored on this heritage cycling tours is only one of the reasons that it has attained a spot on our lists of top cycling tours in Oman.
Oasis Bike Tour

Those who are searching for a leisurely cycling tour to explore the countryside of Oman should opt for the Oasis Bike Tour which takes cyclists on a short one to two hour long expedition cycling through the silent countryside to arrive at a green paradise hidden away from the rest.
This tour is ideal for beginners as it takes cyclists through an easy route starting from the Bank Muscat in Al Hamra early morning pedaling through back lanes and alleys to get out of the city and to the Oasis. The route takes cyclists via serene pathways where they are likely to only find the occasional camel or birds for company as they pedal under the shade of palm trees. Cycling through deserted paths to find a lush oasis in the middle of the dry and dusty lands makes for a fantastic experience and a great way to explore the natural beauty of Oman via cycling.
Downhill Cycling Adventure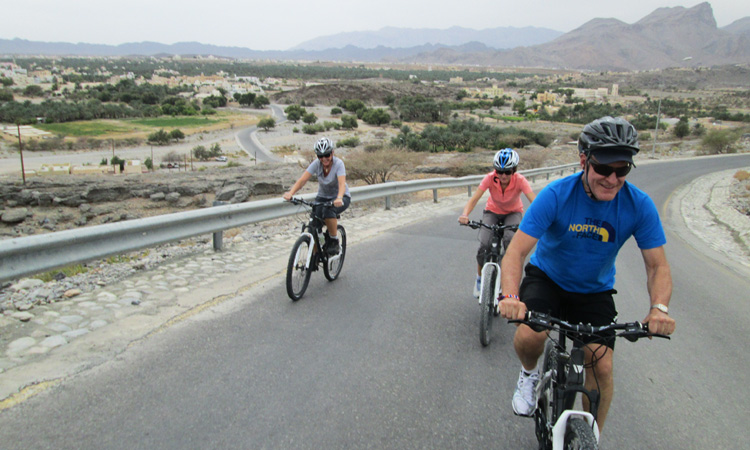 While this daunting cycling tour is marked as an intermediate level tour, it is not for the faint of heart as it involves plenty of downhill cycling through steep hilly paths where you may find yourself coming across sections where you cycle with the hill on one side and the open air on the other. The tour itself takes only one two hours and starts with a drive uphill the Al Hajar mountains to indulge in a short half hour sightseeing session to take in the amazing sights here including the terrace farms and mountain villages of Bilad Sayt and Hut.
The descent down the paved mountain path starts after the sightseeing with a careful entourage slowly heading down the steep path while taking plenty of cooling breaks. The cyclist will cross many small villages, terraced farms, and pretty houses and fantastic viewpoints on their way down.
View Downhill Cycling Adventure Tour
Also check out our list of Top Mountain Biking Tours in Oman or talk to one or our team members at +968 95165038 or reservations@bikeandhikeoman.com for other cycling options within Oman.